Highlights from Term 2: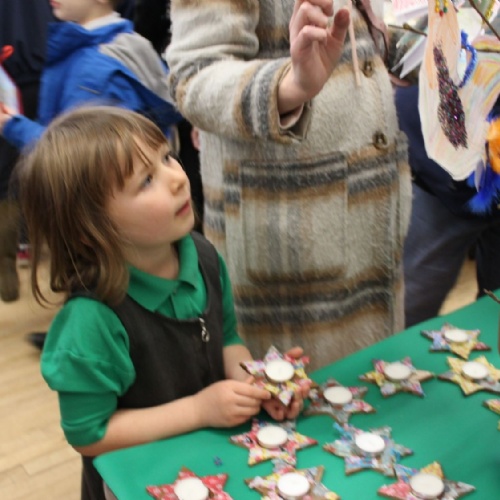 Last week we hosted our Christmas Fair. The gifts and crafts on sale were all produced by our children, as were the festive cakes and biscuits sold at the Acorn Cafe! Thank you all for your generosity and support which helped us to raise over £300.
Earlier in the term the children in the Dragons' and Wizards' classes attended workshops at the University of Oxford Science Museum. The "House of Wisdom" workshops allowed the children to explore the important scientific discoveries of Islam. They were taught how to use a quadrant (angle measurer), and a Quibla indicator (which shows the direction of Mecca). The workshops proved to be an exciting introduction to our whole school topic - "We are Scientists". We have been investigating forces and mechanical engineering and this topic will continue in the new year.
We all enjoyed our trip to the Oxford Playhouse in early December to see the pantomime, "Beauty and the Beast". This traditional re-telling of the fairy tale with its enjoyable songs inspired some lovely story writing and reviews back in school.
Thank you to everyone who came to our Christmas service at St Nicholas' Church on Thursday evening. We do hope you enjoyed our children's beautiful singing and the magical re-telling of the Nativity by our younger children. Many thanks to Father Mark for welcoming us so warmly into the Church.
Christmas parties will be held tomorrow afternoon; children may bring party clothes into school to change into and party food will be provided. There may even be a very special visitor coming to the Foundation and Key Stage 1 party!
School will close for the Christmas holiday at 1.10pm on Thursday afternoon and re-open on Monday 6th January.
We hope you all have a Merry Christmas and a very Happy New Year!