This week in the Elves' Class...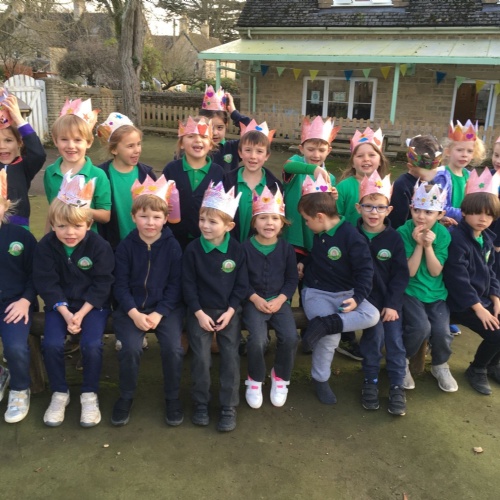 The Elves, wearing their crowns with pride!
The photo shows the children in the Elves' class wearing the crowns that they made this week as part of their work on the Nativity Story. As a Design and Technology activity, they each designed, cut out, painted and decorated their crown. The children made their own fold out Nativity scenes and characters this week; they also helped to make a flock of woolly sheep puppets for the shepherds' scene.
Over the next three weeks, the children will be sharing their favourite stories from home and we are looking forward to finding out which ones they will choose. This week, we read "The Three Billy Goats Gruff" and the children sequenced parts of the story - writing and re-telling this traditional tale in their own way. In Maths, Year 2 have been increasing the speed at which they can recall their number bonds to 20 and have used their knowledge of adding small numbers together to help them when adding larger numbers. Year 1 have been comparing number bonds to 10 in practical activities and using number lines to help them with addition and subtraction problems. In PE, the children have been practicing their dribbling and passing skills in football - and playing lots of active outdoor games to maintain and develop fitness levels.