Reaching out across the world!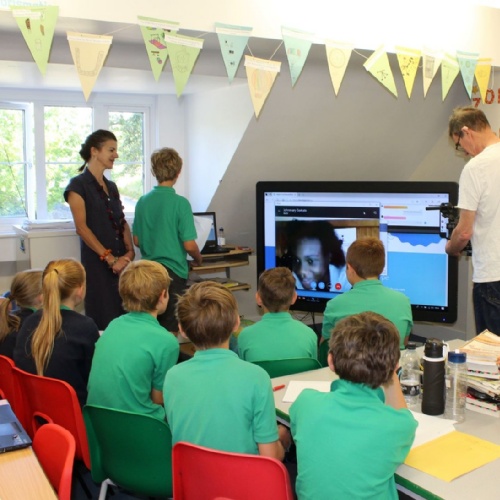 As part of the Dream a Difference poetry project (co-ordinated by Mrs. Jarrett), the children in the Wizards Class have been connecting with children from Uganda.
This has been an exciting project, which has inspired the class to write poems in response to poetry received from Uganda. This stage of the project reached new heights on Friday 22nd June when Mrs. Jarrett set up a Skype call so that we were able to share some of our reactions to the poems we received, as well as reading some of our own which were written in reply. Having all crossed our fingers that the video link would work, we spent a truly memorable morning sharing our work across the continents, finishing with a performance of The Lioness Hunt from The Lion King. We would like to thank Mrs. Jarrett for making the whole thing possible and Mr. Rawlence for filming the incredible experience.
This week in Maths, we have been looking at circles. The children have learned what different parts of the circle are called and some children have used Pi to work out the circumference and area. Some of the Wizards have then used circles in Art to investigate the artist Kadinsky, as well as making different shades of a colour by combining different coloured paints together.
The costumes for the Lion King have now had the finishing touches put on them, with the children fine tuning their sewing skills to sew on buttons and lace. The Wizards are all delighted and proud of their hard work!