We are costume designers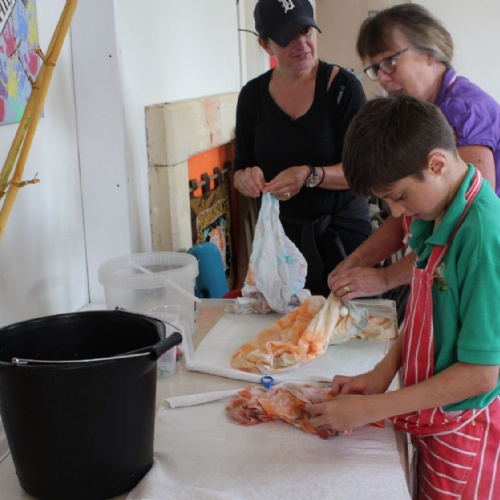 Our Costume Department is up and running as the deadline for our production of 'The Lion King' looms! Will we be ready for our performance on 5th July?
On our return from an exciting week at PGL, we have had a busy time back at school: every child has tie-dyed a t-shirt as part of their costume for our upcoming production of the Lion King. Connected to this, the children have been researching to find out what natural products can be used as dye, in preparation for carrying out an investigation into the most effective natural dyes this week. Please click on the link for an interesting experiment you could carry out with your children at home:
Changing colours with cabbage dye
Additionally, we took part in the Chipping Norton Partnership of Schools Cricket Tournament, where our team of eight children batted and fielded their way to four wins, bringing home the winning trophy for small schools. Congratulations to all the children involved.
Wizards Class are also attending Little Wild Things (Forest School) this term (in two groups) with each enjoying three sessions in the woods. Please make sure your child wears appropriate footwear and clothing (long sleeves and long trousers) for these sessions.
The Lion King preparations continue over the next few weeks with all the elements of costume making, dance, singing and acting joining together ready for our performances on July 5th, in an extremely exciting culmination of this term's topic work!